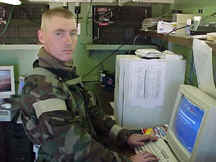 Tech-Army.org announces new on-line tools for their members:
Tech-Army.org, an Army of qualified technicians, network engineers, programmers, AV experts and CCTV DVR Security Camera installers, will soon have a full host of new online tools to help complete their missions. According to John Beagle, a Technology Writer for Xponex Web and Media Services the Tech-Army is presently Beta Testing a new Com Center for their membership. It gives the members one place to source all information concerning their missions. He states "From a productivity standpoint alone the benefits are amazing".
The Com Center is the newest tool in the war against bad service in the computer service industry. With it, members of the Tech-Army will be able to manage all information, leads, new certifications, customer contact information, from anywhere over the internet.
Some of the features of the new Com Center:
• Recent Orders
– This is a listing of all of the active and recent orders you have accepted from the
Tech-Army.org
.
• Recent Leads – This lists all of the recent leads in your area that you are qualified to work. Any lead in this area is yours for the taking. As soon as you accept it and start working it, it will move to your Recent Orders Categories. You receive these leads based on your skills sets, so make sure to update your skill sets right away.
• Communications
– This will contain all of the news and information for the entire
Tech-Army.org
Membership. It will be a place to showcase information on our members, our services, our industries, our future plans and new ideas/ services from our members.
• Directives – The Directives is communications to individual Tech-Army Members.
• Newest Forum Posts – The Tech-Army.org Forum is a location for information on our industries. It contains technical and sales based discussions on hardware, software and market trends. We encourage you to participate in discussions. The more information shared, the stronger our organization will be.
• Equipment Exchange – The equipment Exchange is simply an Estore where you will be able to sell your products and services to all of the members of the Tech-Army.