In October 2017 Lookout surveyed approximately 2,000 US IT executives regarding their own and their company's use of mobile devices in the workplace. The main purpose of this survey was to measure the upcoming GDPR (General Data Protection Regulation) being unrolled in the next six months. The fines for companies that don't comply with this regulation is large, however the survey measured so much more; including the real risks associated with the use of mobile devices in company settings.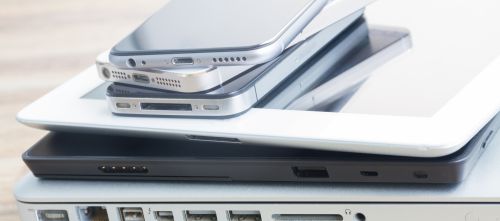 Survey Says: Mobile Devices Need Regulations
Here are the survey highlights:
• 84% of IT decision makers worry that data accessed through employee mobile devices may risk their GDPR compliance
• 75% of respondents use their work phone as their personal phone. In addition, it is estimated that Millennials spend at least one hour a day on non-work activities while at work while using their smartphones.
• 64% use their company devices to connect to public Wi-Fi networks, putting company's data at risk
• 61% of employees admitted to using their mobile devices to access customer, vendor and employee data
• 50% of Millennials spend at least three hours on their phone each day
• 41% open links on their devices without knowing it is safe
• 32% of employees ranking as a VP or higher said their phone was compromised or hacked in the past
• 23% of employees do not have automatic operating system updates.
What All This Data Means and What Your Organization Can Do to Protect Itself
First, what is GDPR and why should you care? General Data Protection Regulation (GDPR) will strengthen and unify data protection for individuals within the European Union (EU), whilst addressing the export of personal data outside the EU. If your company does business within the EU, you will need to be compliant to these standards. If you are not, there are hefty fines to pay. However, even if you are a US only based company, regulations are coming soon regarding data protection. It is best to prepare for the onslaught of regulations now and that includes providing privacy standards for mobile devices.
Second, if you are concerned about employees using your phones for their personal use, perhaps consider a lease or rent company smartphones. In addition, set forth a policy that states what apps can go on these business phones, how they can be used and the consequences of not following the policy.
Third, prohibit employees from using public Wi-Fi and train them on the dangers of doing so. In addition, train them about phishing and give examples about the risks associated with opening PDFs and hyperlinks from emails.
Fourth, set up firewalls for all workplace mobile devices so they are limited about what data they can access while on and offsite.
Fifth, Millennials and Gen Z rely on their smartphones, so asking them to not use their phone is nearly impossible. However, setting limits on the amount of texting and phone calls is always a good idea.
Last, make sure all your devices are compliant with the latest operating system updates. Other than human error, this is the number one way hackers get into a system. Need to replace a lot of older mobile devices but don't have the capital to do so? Consider rent or lease options, as they take away the need for a lot of the up-front capital.
ComputerServiceNow.com is Here to Help
If your workplace equipment becomes compromised, know that you have a partner in ComputerServiceNow.com! Contact us today at 877-422-1907 to find out more about our PC repair services.
Want to share this story on social media? Use these hashtags! #DataProtection #CyberSecurity